Our original assessment software will be replaced by the new SAICA Electronic Assessment Tool - developed in collaboration with us! Our original assessment software will be replaced by the new SAICA Electronic Assessment Tool - developed in collaboration with us! Learn more →
State of the art
SAICA Assessments
We remove the complexities, frustration and wasted time from your assessment process.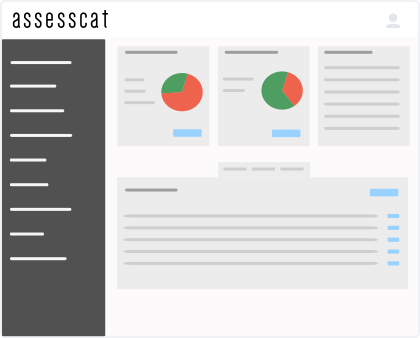 A better way to send money.
Dashboards

User dashboards with graphs and key metrics that are based on roles assigned to the user.

Reminders

Automated email reminders are sent to users to ensure they comply with time frames and deadlines.

Fully responsive

Our system is fully responsive, mobile friendly and can be used on any internet connected device.
Frequently asked questions
Does AssessCAT comply with SAICA's regulations and requirements?

Yes! Our software is fully compliant with SAICA's regulations and requirements. It was designed and developed by qualified Chartered Accountants and registered assessors, with hands-on experience with the SAICA assessment process to ensure full compliance. Also, the software will always be kept up to date with any changes to the regulations.

Can we move our trainees to AssessCAT, even if they have an assessment record on another platform?

Yes! The trainee's ratings from their latest Assessment Needs Analysis can be loaded onto our platform during the user creation process and of course, we will assist if required (at no extra cost).

Who will train our staff to use AssessCAT?

Our platform was designed to be very easy and intuitive to use. No training is required. Our platform provides guidance and instructions throughout to assist users. However, we will happily provide training if required! Please let us know.

What makes AssessCAT different?

We provide a state of the art solution for SAICA assessments, designed and developed by qualified Chartered Accountants. Our platform is easy to understand and use, for all the users, even if they do not have any previous experience with SAICA's assessment process.

What are the benefits of using AssessCAT?

Our modern solution will help you save time and money! You will save time on every assessment performed. You will save money: We are the most affordable solution on the market, no training is required and your staff can focus on your core business.

Do you provide any support?

Yes! The price includes full support for all users. Our software has a built-in support function available for all users. We also provide telephonic support to the users.

How does the billing work?

You are billed based on the number of active trainees. The administrator can make changes to trainees when required. The changes will be reflected on your next invoice. You will receive monthly invoices in advance that are payable within 30 days.

How do we manage user accounts?

The administrator(s) is able to create and update users, change user roles, deactivate accounts etc.

Does AssessCAT have reports and/or reporting capability?

Yes! AssessCAT has easy to understand reports to assist users to monitor their own and/or other users. The reporting functionality available for every user is based on the role assigned to their account.

Can AssessCAT handle different 'expected level plans' for trainees on 3, 4 and 5 year contracts?

Yes! You can load different 'expected level plans' for trainees on different contract lengths. You can in fact load as many 'expected level plans' as required, for any combination of elective(s) and training contract length.
Affordable all inclusive rate
Only pay for active trainees on your profile
You have full control of your bill. Add or remove trainees anytime and your next bill will reflect the updates.
What's included
The price includes full access

No costs for reviewers, evaluators, assessors and moderators

No contracts or lock-in period
Rate per trainee per month
(Minimum of 2 trainees)
Excludes VAT